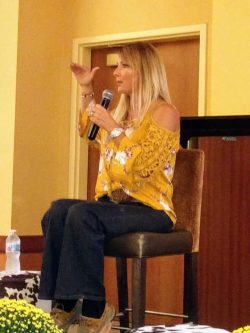 You know when you walk into a room & in your head the Rodney Atkins song "These are my people" start playing ?
That's what happens to me when I speak at an Agriculture event, especially a Women in Ag event!

Wednesday, the MO State Women in Ag Conference came to an end in St. Charles,MO & I can't imagine how much fun they had the first 2 days by the enthusiasm they showed on the 3rd day!
What an amazing
group!
Something happened Wednesday.  The most comfortable I have ever been in front of an audience was with these women. 
Following my outline, ensuring I didn't miss a single thing was always at the forefront of my mind.  During that hour I spent with them, I spoke with them as if they were my girlfriends for years.  
Is it the group itself or is it that I have finally come into my own?
I believe it is a lot of both of these. 
Goodness it felt amazing.  My story can be extremely heavy in the details, but as I felt the acceptance of these women's hearts, I spoke freely.   I was able to cut up like I haven't in any other presentation and tell exactly how humorous my life is, cattle farming with my husband. 

Please follow their Facebook Page & think about attending next years conference!
 Missouri Women in Agricultre 


To inquire about Carey speaking at your event,
email:info@careyportell.com
phone:573-677-1190
or visit careyportell.com