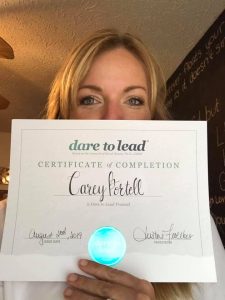 It took a hot minute but I have finished two courses to give my own workshops!
Speaking at conferences, I am asked frequently to give workshops.  I've given a few, but really feel like pulled them out of my rear even though I researched plenty.  Great reviews, but I like to feel more prepared. 
I wish I had this knowledge years ago, my goodness what a difference it has made it how I think and handle situations. 
I am trained in Brene Brown's Dare to Lead program.  I will use this for learning to become a better leader in your personal, faith and work life. 
I just finished the KBB ( Knowledge Business Blueprint) course yesterday, facilitated by Dean Graziosi, Tony Robbins and a touch of Jenna Kutcher.   These will be online courses, mostly, but could also be in person. 
Both of these options will be intertwined with what I have learned during my recovery from my car crash and what I continue to learn as my injuries deteriorate.  They will be available sometime during the year 2020. 
 I've got a fire in my belly now that I the knowledge and tools that I need and a path in sight.  Good grief, you never know where life will take ya, ya know?  
So look out for new things coming in the next year, I'm going to surprise even myself.