I Love, love LOVE Pinterest!
Forget surfing Safari, I go to Pinterest to find almost everything these days, especially DIY projects.
Now I love DIY, as long as it is pretty close to the original version.
Recently I have been hooked on beauty DIY and I have found some projects that work great and are super easy on your wallet.
Some nights I fall into bed, late after ballgames or I just fall asleep on the couch because my day has worn me out and I just want to wipe off my makeup and hit my pillow.
I have found you can make your own makeup remover pads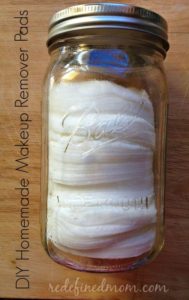 that are also wonderful for your skin with just five ingredients!
They are easily accessible ingredients too!
http://redefinedmom.com/diy-homemade-makeup-remover-pads/#_a5y_p=4731854c
 

One of my favorites and the first beauty DIY I tried was eye makeup remover.
How easy and for cents!
I saved an old Covergirl plastic container and mixed up this simple solution.
Never again will I purchase overpriced eye makeup 
remover products!
http://www.atravelingwife.com/2013/01/diy-eye-makeup-remover.html?m=1
   
Dirty makeup brushes?
Yuck!
We all have them and I know that I do not clean mine as often as I should.
Another simple recipe to have on hand for a quick cleaning of those nasty things.
Clean 
them before you leave in the 
morning and let them dry while you are gone.
https://www.pinterest.com/pin/387380005424977222/

Bath salts!
Yes, please!
Epsom salt is good for sore muscles, achy joints, detoxing and feeling rejuvenated.
The manufacturers package them beautifully, then add an adorably high price to something so inexpensive to make yourself!
Just pick your color and scent. That's it!
https://www.pinterest.com/pin/203295370653694128/

Want a quick leg or body scrub?
Just look in your pantry for sugar and olive oil.
Really?
Yes, it is that simple and works fantastic.
Keep it in a sealed jar in your bathroom or shower for future use.
http://www.makeup.com/beauty-diy-the-ultimate-smooth-leg-scrub
So there are just five easy and inexpensive DIY beauty tips that I have personally tried that you can make at home on a low budget.
Plus, all of these ingredients you will most likely have in your own pantry.
You won't even have to leave your home!