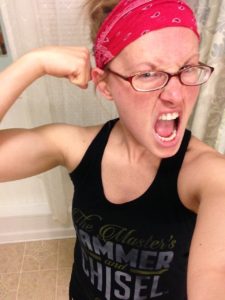 Each one of us looks to others for motivation of some sort.  When you can find one person who can motivate you in many aspects of your life, you've got yourself a winner.  I have one such individual that I would like to introduce to you.  Alaina Winch surprised me when she decided to attend college for nutrition and fitness.   I had no idea she was that interested.  She is my cousin, but ten years younger than I and I guess our conversation never turned to her aspirations in life.
I follow many who help keep me motivated physically.  I need this due to the pain my arthritis causes and if I want to continue to walk, keeping some muscle tone is essential.  Although I've always seen her healthy life style, this past year has been remarkable to watch.  She is one person that I have followed who has been consistent in her personal goals while motivating others as well.  You can see her focus on a daily basis and her results have proven that consistency is key!   She has transformed herself physically but what I've noticed just as much is her mental, emotional and spiritual transformation as well.  I asked her to write a guest blog for me to allow the rest of us to understand her desire to help herself as well as others.
Alaina wrote: My Path to Purpose
When I graduated from University of Missouri-Columbia (Mizzou) 8 years ago with a Bachelor of Science in Nutritional Sciences, I didn't know which path I was meant to take.  I was told I could work in the medical field as a Cardiac Rehab technician or in Pharmaceutical sales.  I was told I could do Personal Training, Group Fitness Instructing, work with kids, work with athletes, work with elderly, work with the general population, or go on to get my Masters in Exercise Physiology.  All of these ideas sounded great, in their own respect, but I couldn't exactly do ALL of them, and not one of them really jumped out at me more than the other.  What's a girl to do?
Growing up, especially into middle school and high school, I became fascinated by workout equipment and program infomercials.  I was just intrigued with the way the body worked, the movement, and how it all just seemed to connect.  I had always had a lot of energy as a kid, not to the point of needing medicine or anything like that (my teachers struggled getting me to talk in school).  I just had a lot of passion and excitement, especially around those I cared about most.  I needed a way to channel that energy, that passion, and nutrition and fitness just seemed to be the best fit.
 After all, when I wrecked my parents' van after getting my permit, and shattered the bones in my ankle, I had to push myself to get back and ready for sports, after being out of them for almost 6 months.  I did all my own physical therapy and gained almost full ranges of motion, and was ready in time for my sophomore year of softball – pushing myself through my own pre-season conditioning since I had missed out on all the summer camps.  I was made to move, and loved learning how to push my body and get my strength and endurance back.  I used my energy to my benefit.
After college, I dabbled in a little of everything.  I helped lead a top-in-the-nation Walking School Bus for grade school kids living within a mile radius of their school, being led safely by parents and college students to walk to school instead of riding the bus or being dropped off.  I also spent a summer helping the Mizzou football team as a Strength and Conditioning Specialist Intern, which was one of the coolest things, and most challenging, I have ever done.  Did I mention it was in 2008, the year after our football team had been ranked one of the top in the nation?  Yeah, that's pretty neat!
Once married, my husband and I moved out to Yorktown, Virginia, where I worked as a Rehabilitation Technician in the physical therapy clinic where he worked, as well as a Personal Trainer and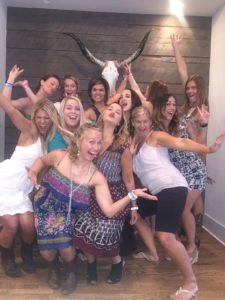 Youth Fitness and Nutrition Instructor at the local YMCA.  I worked with kids K-5 in an after-school nutrition education and fitness class, and I helped many people get closer to their goals by working out in the gym.  I then went on to help in a Women on Weights program (strength training for women), help with the gym's Biggest Loser group fitness program, lead a 5K/10K running training group, help with some Silver Sneakers events, and much, much more.  I was becoming well-rounded and loving all the learning.
Then we moved back to Missouri to be closer to family after my father-in-law passed from being hit by a drunk driver, and lived in a more rural, farming town (Farmington, to be exact).  This area was not as small as where I grew up, but it was a bit slow-moving in terms of fitness and wellness advancements.  Especially compared to the outgoing, military family loaded area from which we had just come.  It was a struggle to get things going, and to get my name out there as a Personal Trainer.  So, I delved into group fitness and loved it, though the consistency I craved from attendees wasn't really there, thus making it difficult to see people through to their goals and results they were wanting.  I just felt…STUCK!
While living out in VA, I had experimented and fallen in love with an at-home workout program called INSANITY (remember, my love for workout program infomercials?).  I had gone through the entire program 3 times, and touched base with it again once we were settled back in MO.  When I got pregnant with our daughter 3 years later, I put it on my bucket list that I would get certified to teach INSANITY Live in the local gym after she'd been born, and I set out to do that just after she turned 4 months old.  It kicked my butt, but my passion was reignited, and I loved it.  With doing so, I was re-exposed to the brand Beachbody, and started following a lot of top coaches and what they were doing to help end the trend of obesity and help a large span of men and women lose weight.  A little light bulb went off in my head, but it took me another year to find it again.
Jump back to last summer, 2015, and I was in a bad place.  I was dealing with some form of post-partum depression centered around my daughter turning 1, me turning 30 two months later, and just not being where I wanted to be in my life.  I loved juggling being home with my daughter and toting her around with me to the 15-20 workout classes I taught in a week, but something still felt off.  I had made it through my first year of parenting, but what had I done for myself? I wasn't motivated to teach anymore, I felt overwhelmed being a parent to a now getting-into-everything daughter, and I was just SAD.  Lo and behold, a friend of a friend started posting on Facebook that she had become a Beachbody coach.  Being that it was right around my 30th birthday, I messaged her immediately wanting to know more.  A month later, after joining a coach sneak peek, I talked to my husband and was in it to win it.
Now, as I a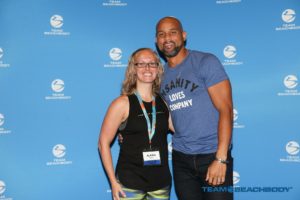 m approaching my first year anniversary as a coach, and a few days from my 31st birthday, I am in awe the difference a year can make.  I went from feeling lost, confused, hurt, depressed and ashamed, to bouncing around with vigor and excitement every day.  I have helped nearly 10 women lose 20-40 lbs, and have helped over 50 get started on their journey to better health. I now lead a team of women that are helping do the same for others while learning and growing into their own journey, and I have the potential created to be able to someday do it all from the comfort of my home, raising my daughter and any future children, working part-time for a full-time income.  Not to mention, I can help people from all across the country get started on the road to better health, and I couldn't be happier.  All those adventures, all the dabbling in other areas of health and fitness, all the experience and knowledge I have gained has led me to this place, down this path, to my greater calling and purpose in life…and I am never looking back!
Every day I strive to do better, be better, and achieve more – constantly pushing myself outside of my comfort zone and surprising myself each and every time.  I get to talk to women about their struggles, their hurts, why they want to learn to put themselves and their health first, and come up with game plans for how we're going to get them there.  And I don't give up on them, not now, not ever.  I am determined to believe in them always, and do whatever it takes to see them through to not just success, but happiness and greater self-love than they have ever known before.  I have seen, felt, and known it for myself, and I want to share that with everyone I know.  So, that's what I am doing every day now – living out my path, my purpose as a Beachbody coach.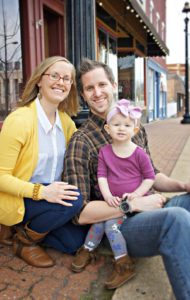 If you want to know more about what I do, or need help learning how to achieve a healthier lifestyle yourself, feel free to follow me on
Faceoobk @ Alaina's Active
Lifestyle or on
Instagram @alainasactivelifestyle
.  I am always looking to add more women to my team, or simply help others get started on their journey toward better health.  I love what I do, and do what I love, and do it all with my husband behind me and my daughter beside me – it doesn't get much better than that!